Raksha Bandhan, also known as Rakhi is the Hindu festival that celebrates the bond of love between brothers and sisters. It is celebrated on the full moon day of the Shraavana month of Hindu calendar that's why its date varies every year. This year, Raksha Bandhan is on 26th August 2018. The auspicious time for Raksha Bandhan 2018 thread ceremony is from 05:55:48 to 17:27:57, i.e., the total duration is 11 hours and 32 minutes. The auspicious aparahan time for Raksha Bandhan is from 13:40:16 to 16:15:05. So it is advised for sisters to consider the auspicious time of Raksha Bandhan before tying a rakhi on the wrist of their brothers.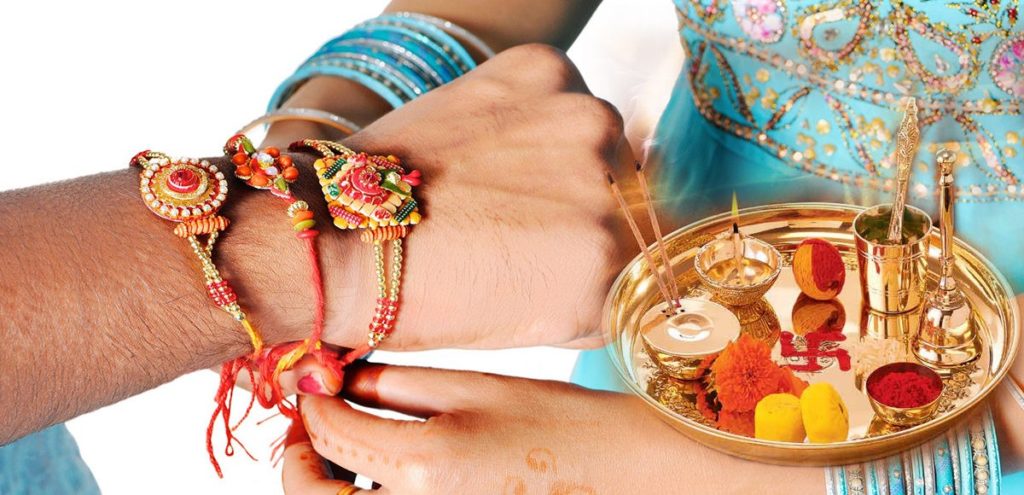 The term 'Raksha Bandhan' means the bond of protection. On this auspicious festival, sisters tie a sacred thread called Rakhi, Rakri, Saluno or Silono on the wrist of their brothers and pray to God for their long life and prosperity. In return, brothers buy rakhi return gifts for sisters and promise to honor and protect them from all the evil in the world throughout life. Rakhis are generally made of silk threads beautifully crafted and studded with sequins and precious stones. The married women travel to their parent's home to celebrate this festival. Or sometimes brothers travel to their married sister's home for the rakhi tying ceremony. It is not necessary for men and women to be blood relatives in order to celebrate this festival. Women can also tie the thread on the wrist of men with whom they share a very close relationship just like their own brothers irrespective of the cast and creed.
History of Raksha Bandhan
Raksha Bandhan is an ancient Indian festival and its history dates back to thousands of years. According to historical facts, when Chittorgarh was surrounded by Bahadur Shah, the Sultan of Gujarat, the widowed queen of Rana Sanga, Rani Karnavati asked for help from Mughal Emperor Humayun to defend her. Rani Karunawati sent a sacred thread to the Emperor as a token of her cordiality with him and he vowed to protect her from the enemies. Since that day, Rakhi is envisaged as a pledge for men to defend their sisters from all the problems and difficulties.
In 1905, during the partition of Bengal, the Nobel Laureate, Rabindranath Tagore started the celebration of Raksha Bandhan to strengthen the bond of love and togetherness between Hindu and Muslims of Bengal. He also requested people to protest against the Britishers. His aim was to spread the feeling of brotherhood between the citizens of the state. Though his idea and hard work were not able to save the state from getting divided the tradition continues in various parts of West Bengal as people tie rakhi to their friends and neighbors.
Another great story that indicates the origin of Raksha Bandhan is from Mahabharata. Once Lord Krishna hurt his hand fighting against Shishupala. At that moment, Draupadi, the wife of Pandavas cut off a piece of her sari and tied around … Read More